Collaboration Plays a Key Role in the Service Journey
According to the Harvard Business Review, the top six ways to achieve business growth are by creating new models, processes, features, experiences, offerings, and customers (HBR, 2018). To accomplish this growth, credit unions have a competitive strategy in their back pocket – partnerships. Creating and strengthening partnerships collectively pushes the credit union industry further in its fundamental service mission and communicates a tone of collaboration and teamwork. From building enterprise bridges, to cultivating an authentic community of innovation, partnerships are critical along every step of the journey.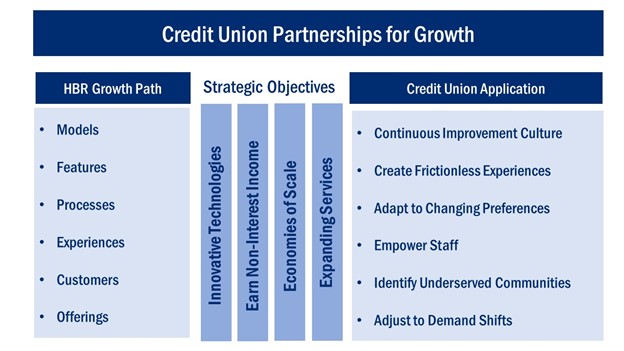 This is not a secret and explains why CUSOs play a crucial role in the credit union world. Credit Union Service Organizations (CUSOs) evolve the financial service model acting as springboards for growth.
John Dearing, Partner at the advisory firm Capstone Strategic, outlines the specific ways CUSOs help credit unions fill these growth goals. In his recent CU Insight article, Dearing discusses this CUSO credit union growth paradigm.
"A CUSO partnership opens four key paths to growth - Accessing Innovative Technologies, Achieving Economies of Scale, Expanding Services and Generating Non-Interest Income," (Dearing, 2020).
When we think of these pathways as strategic objectives for credit unions, a map appears where the growth journey is navigated by partnership avenues.
So, how does a credit union apply these growth objectives?
By fostering a culture of continuous improvement, models change and new opportunities emerge. Addressing feature changes allows for frictionless staff and membership experiences. Improving the way transactions are conducted opens new growth opportunities through the processes within a credit union. Empowering staff intrinsically motivates the organization while improves the quality of daily experiences. Identifying underserved communities opens new service areas. Evolving the credit union to meet demand changes improves organizational offerings. This flexibility positively impacts employees and serves greater community needs.
Partnerships are the pillars of the credit union environment; that create reinforcing systems of growth and service.
These partnerships enable the credit union to thrive in dynamic conditions, by layering strategic objectives with tactical roadmaps, and for CUSOs, credit union growth is our business.
---
To read the articles cited in this blog, please see:
Chirio, G. (2018, June 14). The 6 Ways to Grow a Company. Retrieved from https://hbr.org/2018/06/the-6-ways-to-grow-a-company?utm_campaign=hbr&utm_medium=social&utm_source=linkedin
Dearing, J. (2020, November 16). 4 reasons credit unions partner with CUSOs. Retrieved from https://www.cuinsight.com/4-reasons-credit-unions-partner-with-cusos.html