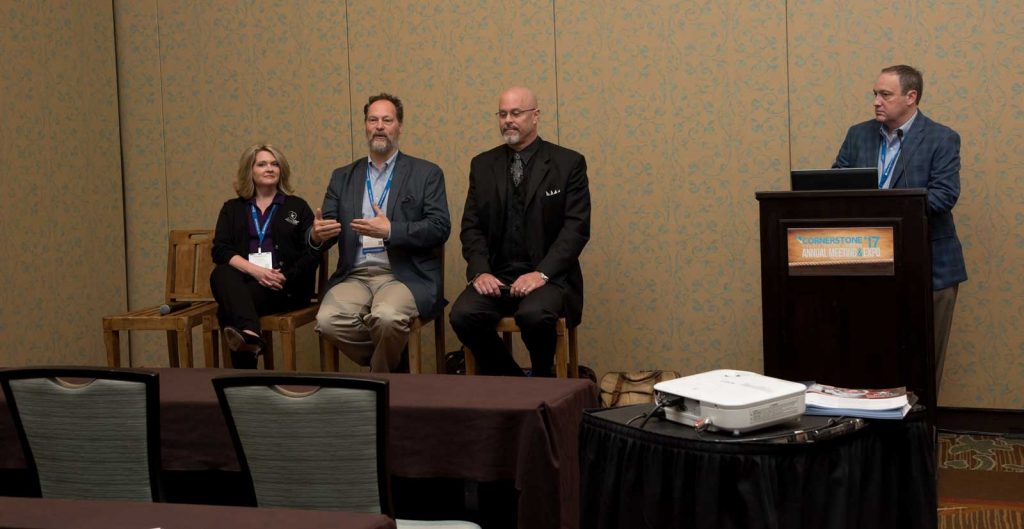 Pure IT Credit Union Services Speaks at the 2017 Cornerstone Credit Union League Annual Meeting
At this year's CCUL Annual Meeting the team at Pure IT Credit Union Services was privileged enough to be able to present a session on Making Your Information Technology into a Business Enabler. This panel style discussion with Becky Reed, Lone Star Credit Union COO, Steve Koinm, Pure IT Credit Union Services VP Professional Services, Trent Henson, Pure IT Credit Union Services CTO, and moderated by Jack Smith, Pure IT Credit Union Services CEO covered many aspects of how a Credit Union can get more value from the IT Department.
Jack Smith asked Becky Reed to give the story of the transformation that Pure IT was able to assist with at Lone Star Credit Union. Becky gave great detail about the changes that occurred as well as the upcoming core conversion within the next 30 days. Full details about Lone Star's changes are available in their Case Study. But the highlight of the conversation was how much life has changed going to a fully virtual environment both in the server and desktop environments and how much that has changed the level of effort to maintain their environment. Pure IT was able to not only come in and assess what worked and what needed updates, but then to provide the remediation to fix issues, guidance to architect and build a new environment, and then the managed services to support it afterwards leaving the Lone Star staff working almost exclusively on strategic initiatives that benefit the business and membership.
As Steve Koinm said, "Our IT Departments often get into a situation where they are spending more and more time dealing with issues in the environment and less time working on strategic initiatives that move the business forward. What we all see is that the more firefighting that is done the less time that can be spent on the strategic initiatives. But this causes the issue as the less we can work on those strategic initiatives, the more time is required to work on those firefighting efforts."
But there are many ways that we can address this quandary. "Pure IT evaluates each environment individually to determine the best solution," stated Trent Henson. "At Pure IT we do not sell any hardware or software. Whatever solution we use for your environment is determined based upon your technical and financial needs, not ours."
If you need help evaluating your current risk or addressing your IT infrastructure, Backup & Recovery, or security tools please reach out to us: info@pureitcuso.com